Shows and Trials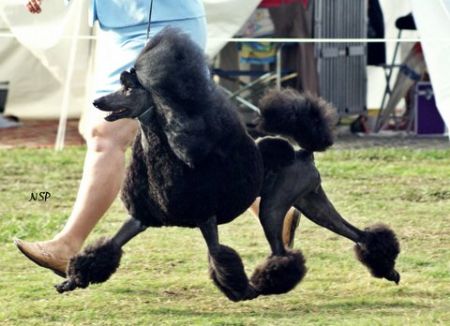 Meet Our Fabulous Spring Fair Judge
Ms Viviana Nodalli ( Italy)
POODLE SPECIALIST
Viviana was born in a "dog family" and, as a hobby, she has been breeding with her father Bruno and
her mother Paola black medium and toy poodles since 1982 and under the "Osmanthus" prefix since
1990.
Together they have bred with the aim of quality and not quantity. They have produced one or two
litters per year and now even less, but despite this, have bred many World Champions in adult class
over the years: 1992, 1993, 1994, 1995, 1996, 2011 and 2012. European Champions : 1990, 1996,
1998, 1999, 2000, 2002, 2003, 2005, 2007, 2008, 2012 and 2022. There are also numerous Italian
Champions and 55 Internationals Champions in almost all European countries: Scandinavia, Russia,
Australia, Canada, Israel, USA and South America. BIS Winners in Italy, France, Germany,
Switzerland, Australia, Russia, Hungary, Austria, Serbia, Greece, Belgium and Norway.
Their champions "Osmanthus Noel Chance", "Osmanthus Essence" and "Osmanthus Allure
Sensuelle", who unfortunately left them in April 2021 at the age of 15, represent their fifth
generation of World and European Champions. A goal achieved by few and a pride for the Italian
breeding.
Viviana started to show dogs at 6 and she was the first to represent her country at the International
Junior Handler Final at Crufts. She was handling various breeds as a teenager such as Flat Coated
Retrievers, Dachshunds, Afghans, Whippets, Salukis, Borzois, Pekingese, Lhasa Apsos and Scottish
Terriers.
In the daily life, she is working as a Project coordinator for the world renown Novartis Innovative
Medicine Pharmaceutical company in the Value and Access Team.
After many years of breeding and showing, Viviana followed her father's footsteps in the judging
career, and became a Poodle judge in March 2017. She had the pleasure to judge the prestigious
Enci Winner 2018 hold in Milan and the most important International shows and National
specialities in Japan, Germany, Poland, Ireland, Denmark, Serbia, Sweden, Switzerland, France and
Holland.
She is an FCI judge for group 4 and many breeds of group 9. She has written many articles for the
Poodle Variety and Poodle in Scandinavia magazine.
DUE TO THE CORONA VIRUS RESTRICTIONS THE POODLE CLUB WILL NOT BE CONDUCTING ANY SHOWS, TRIALS OR OTHER EVENTS IN 2020.
Small carefully managed (hygiene, allowed numbers of people, proper social distancing) may be organised later in the year. Please enjoy the following pics from recent events.
2019 NATIONAL POODLE CHAMPIONSHIP SHOW AND OBEDIENCE TRIAL
(Hosted by the Poodle Club of NSW Inc)
Date: 8th and 9th June 2019
Place: Hawkesbury Showground, Racecourse Road, Clarendon
Judge: Mr Randy Garren (USA)
14TH POODLE NATIONAL 2019 BEST IN SHOW
SUPREME CHAMPION ZILLARA ABOUTTIME
Owner/Breeder Mrs D. Ward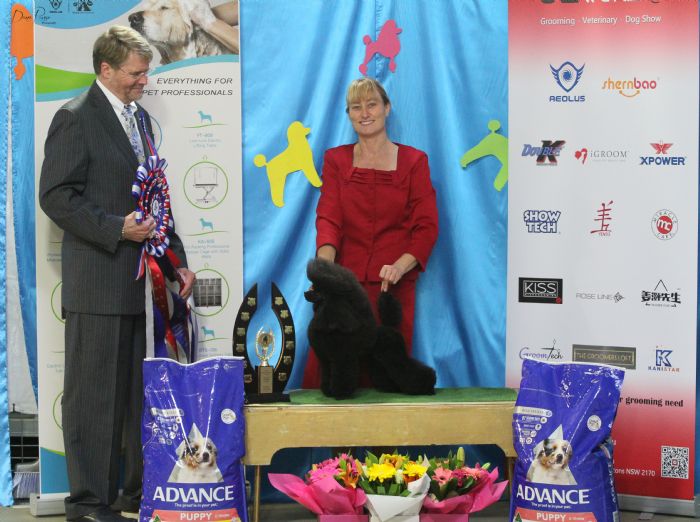 RUNNER UP BEST IN SHOW
SUPREME CHAMPION PICARDY POINT OF VIEW
Owner/Breeder M & L Boyd & J Foulds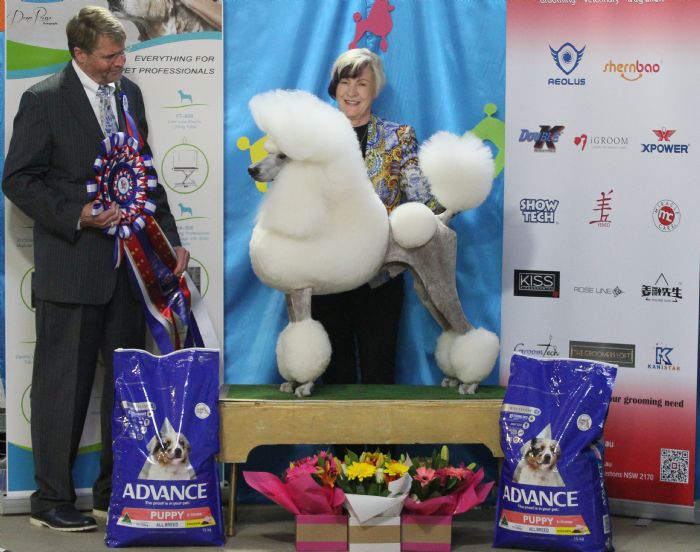 POODLE CLUB OF NSW OBEDIENCE & RALLY O TRIAL SATURDAY 8TH JUNE 2019
OBEDIENCE RESULTS: https://oz.dogs.net.au/poodleclubnsw/uploads/documents/FINAL-POODLE-CLUB-OF-NSW-INC.8.06.2019-obed_result_sheet.pdf
RALLY O RESULTS: https://oz.dogs.net.au/poodleclubnsw/uploads/documents/FINALrally_obedience_result_sheet.Poodle-Club-of-NSW-8.06.2019pdf.pdf
SOME PAST CONFORMATION SHOW WINNERS
For full results and more pics (where available) please each show's own sub page
April 2014 - AM & PM Best in Show Ch Huffish Dynamite Street (Imp Swe) (Standard) - Hamilton & Tell-C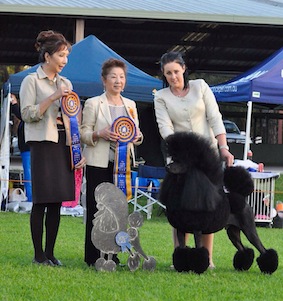 April 2015 AM Show - Ch Mangueira da Maya (Imp USA) (Standard) - D.Cozart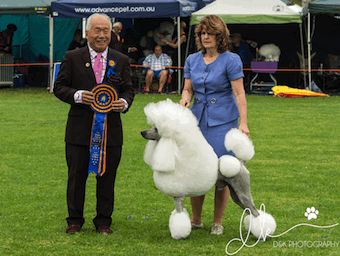 April 2015 PM Show - Ch Westpriors Black Giorgio (Miniature) - Hopkins & Missen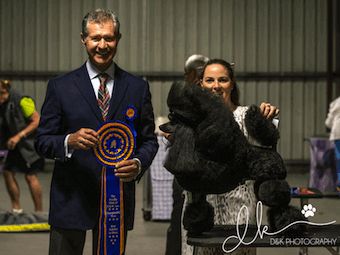 April 2016 - Ch Montaires Reign Maker (Toy) - J.Mackenzie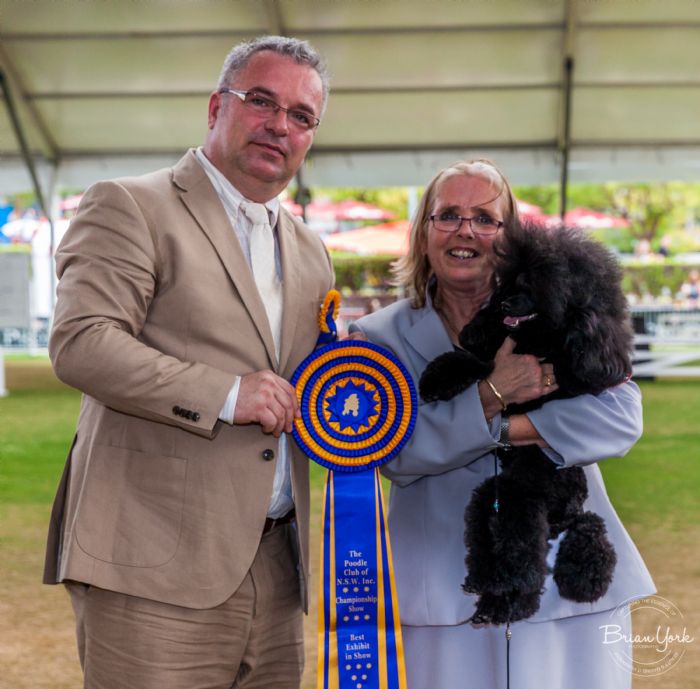 October 2016 - Ch Coifico Cosa Nostra (Miniature) - Edwards and Johnston
GENERAL INFORMATION ABOUT SHOWS & TRIALS
Conformation Shows
The Poodle Club conducts two Championship shows every year. You can find out more about shows in general by visiting the Dogs NSW website www.dogsnsw.org.au and going to the Members tab, then scroll down to 'Showing a Dog'.
Obedience Trials
The Poodle Club conducts a restricted Obedience Trial each year. A Restricted Obedience Trial means that only ANKC registered Poodles can enter the Trial. You can find out more about Obedience Trials in general by visiting the Dogs NSW website www.dogsnsw.org.au then click on the Events tab, and click on 'Obedience' in the side bar. As you can see in the sidebar, you can also find out more about other activities such as agility, dances with dogs, flyball, junior handlers and other activities.
Contact Details
Diana Thompson
Casino, NSW, Australia
Phone : 0409228314
Email :
[email protected]