Obedience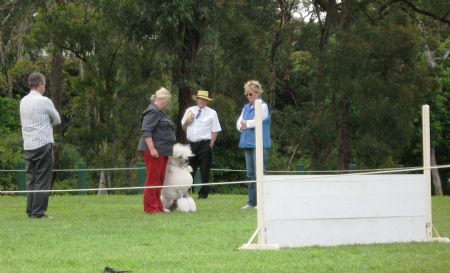 Obedience Training is an organised activity conducted through local clubs all over New South Wales. A full list of these clubs can be found by visiting the Dogs NSW website www.dogsnsw.org.au then going to the Activities & Events tab, click on the drop down box "Obedience," then the drop down box "About Obedience." You will find a link to all the local clubs at the bottom of the page.
There are different levels of Obedience Training and a dog and his/her handler can graduate from one to the other. At an Obedience Trial you can compete in classes for each level. The five levels, in ascending order of difficulty, are:
Community Companion Dog (Trial award C.C.D) – involving basic heel on lead, stand, recall and sit/stay down/stay exercises.
Novice (Trial Award C.D) – free heeling, more complex recall and retrieve and longer stays.
Open (Trial Award C.D.X) – more complex recall, retrieve, stay, jump and handler out of sight exercises.
Utility (Trial Award U.D.) – This involves finding lost articles, scent discrimination, signal exercises and a range of other complex exercises.
Utility Dog Excellent (Trial Award U.D.X.) – This involves more complex extensions of the U.D. exercises.
You can find out more about these exercises at the Dogs NSW website link mentioned above.
RALLY-O
A new sport has recently developed called Rally-O. This is a fast moving activity where enthusiasm, competence and encouragement are emphasised rather than precision.You can read more about Rally-O at www.ankc.org.au/Rules.aspx scroll down to the Obedience heading and click on the link Rules for the conduct of Rally Obedience Trials.
Contact Details
Diana Thompson
Casino, NSW, Australia
Phone : 0409228314
Email :
[email protected]