POODLE NATIONAL 2019
ROBERT L. CURTIS 14TH NATIONAL POODLE CHAMPIONSHIP SHOW AND OBEDIENCE TRIAL 2019 - JUDGE: MR RANDY GARREN (USA)
14TH POODLE NATIONAL 2019 BEST IN SHOW
SUPREME CHAMPION ZILLARA ABOUTTIME
Owner/Breeder Mrs D. Ward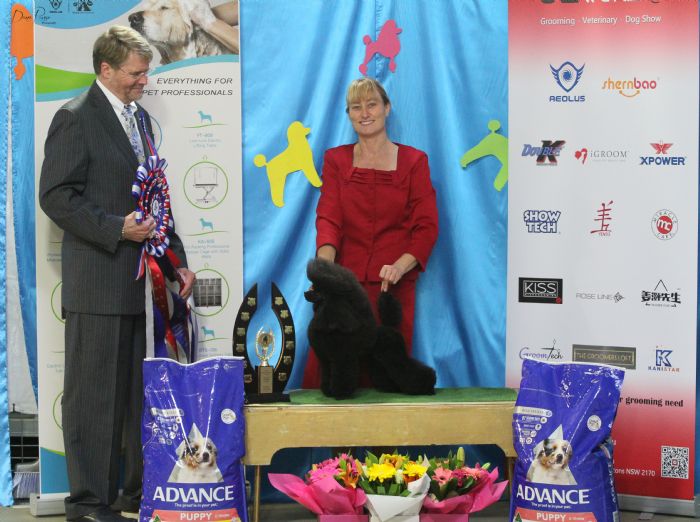 RUNNER UP BEST IN SHOW
SUPREME CHAMPION PICARDY POINT OF VIEW
Owner/Breeder M & L Boyd & J Foulds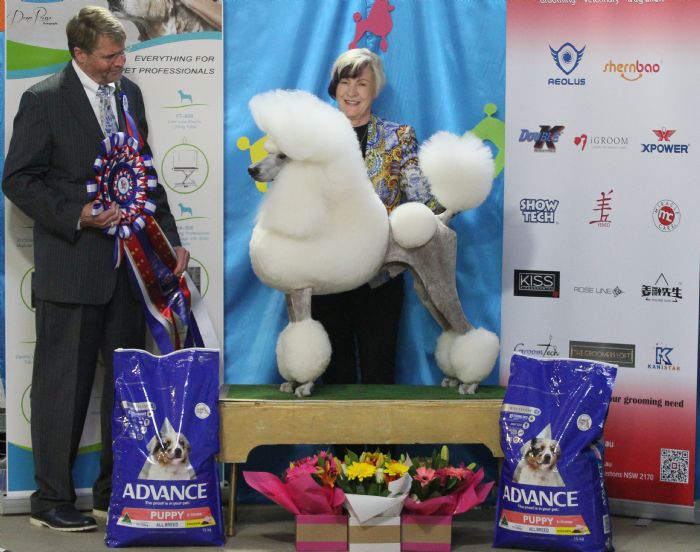 ALL RESULTS - please see thesse links to the marked catalogue
MINIATURES: https://oz.dogs.net.au/poodleclubnsw/uploads/documents/Miniature-Results.pdf
STANDARDS: https://oz.dogs.net.au/poodleclubnsw/uploads/documents/Standard-Results.pdf
TOYS: https://oz.dogs.net.au/poodleclubnsw/uploads/documents/Toys-Results.pdf
OBEDIENCE: https://oz.dogs.net.au/poodleclubnsw/uploads/documents/FINAL-obed_result_sheet-POODLE-NATIONAL-9.06.2019A.pdf
RALLY O: https://oz.dogs.net.au/poodleclubnsw/uploads/documents/FINAL-rally_obedience_result_sheet14th-Poodle-National.pdf
Results for Poodle Club of NSW Trial Sat 8th June 2019
OBEDIENCE: https://oz.dogs.net.au/poodleclubnsw/uploads/documents/FINAL-POODLE-CLUB-OF-NSW-INC.8.06.2019-obed_result_sheet.pdf
RALLY https://oz.dogs.net.au/poodleclubnsw/uploads/documents/FINALrally_obedience_result_sheet.Poodle-Club-of-NSW-8.06.2019pdf.pdf
THE ROBERT CURTIS OAM MEMORIAL
14TH NATIONAL POODLE CHAMPIONSHIP SHOW AND OBEDIENCE TRIAL

Thank you to our Exhibitors, Sponsors, Vendors and VIP's for making this event everything we hoped it would be! The Reviews and comments have been outstanding. To our Judges Randy Garren (USA), Sid Schuck (NSW) and Judy Van Der Vegt - our gratitude has no bounds. The Live Streaming was so well received and supported. Copies can be purchased from [email protected]. $35 per breed section including General Specials or $100 for the whole event. $5 Postage & Handling You must provide a postal address for delivery please.
Booking/ Payment Methods:
Payments for any of the above can be made:
1. Via Pay Pal to account: [email protected] (charges apply)
2. By cheque made out to the Poodle Club of NSW and posted to The Secretary, 21 Fitzroy Street, WILTON NSW 2571,
3. By direct deposit to the account number 201447, BSB 032274, account name The Poodle Club of NSW Inc
Please include with all payments the details of who and what the payment is for. This will help
avoid confusion and misunderstandings.
PHOTOGRAPHY: Please contact Dana Russo https://www.facebook.com/danarussofoto
Results: (Please click on the blue links below to open)
MESSAGE AND CRITIQUES FROM JUDGE R. GARREN (USA)
My critique for the 2019 Australian Poodle Club National
By Randy Garren

What a thrill, my first trip to Australia AND judge the poodle national! I looked forward to this for many months and everything fulfilled my most extravagant expectations. My sincerely felt thank you to the club for their warmth and generosity. To the exhibitors for their entries and professionalism. Susie for the many email exchanges and making this happen. Last but not least, to Jo for hauling me around, the sightseeing and the humor we shared. Also, thank you so very much for the opportunity to judge hounds in Melbourne!

I did not have much of an idea of what to expect. The toys, to my delight, were of my preference as to type, size and boning with very few exceptions. There were some lovely miniatures, as I anticipated. I was not surprised to learn several of the standards were directly descended from our dogs. The condition and presentation added to the pleasure of adjudicating. For short, it was awesome!

Miniatures

Baby puppy dogs: 1) very young promising puppy with wonderful attitude. 2) nice pup, not good going away. 3) too much dog and would prefer a better front.
Puppy dogs: 1) little too much dog, however pleasing form the side, necky with a good tail set. 2) more moderate dog but lacking the carriage of the first.
Junior dog: pretty picture, necky and high stationed. Better feet would be a definite plus.
Inter. Dogs: very nice similar poodles. Both balanced with good legs. The winner possessed better condition and presentation.
Open dogs: This was a very deserving class. 1) a proper exhibit in English saddle. Good side view, pleasing head, best front in the class. 2) high stationed, good footed. Does not cover ground as efficiently as the first. 3) same type as his competition but his front is not his fortune.
Challenge dog: Winner form open class. Easily triumphed on the sum of his merits.
Reserve: 2nd place from the open class. On the day, easy choice for reserve.
Baby puppy bitches: 1) I really liked this youngster. Lovely headed, square, tail set well. 2) most acceptable puppy but not quite as balanced or collected as first. 3) lost on length of back.
Puppy bitches: 1) pleasing to go over. Showed herself. 2) ok puppy, not as good in front or side gait. 3) weedy, straight at both ends, not pleasant to the touch.
Inter. Bitches: 1) lovely bitch, balanced, good coat, tail set and head. Would like to make her less wide coming at me. 2) not good from the side or down and back. 3) no tail, no poodle.
Aust. Bred bitches: 1) very, very pretty. Not cooperative on the table but certainly made the most of herself on the ground. Easy winner. 2) average bitch, standing on bad feet. 3) lighter eye, lacking from the side.
Open bitches: 1) appealing young lady, great side gait. 2) little higher stationed than first, not quite as good from the side. First bitch stood on better feet. 3) average bitch, does not get off her hocks going around the ring.
Challenge bitch: Winner from the Aust. bred class. Easy winner without question.
Reserve: Of the remaining, another easy win.
Best of breed: I made the bitch my winner on her being totally of one piece and oozing femininity.

Standards

Minor puppy dogs: 1) nice and square with good side movement. 2) not trained, not competitive.
Puppy dog: 1) loved his outline. Rather plain faced and straight fronted.
Junior dogs: 1) pleasing head and nice way of going. Would like to shorten his loin. 2) Kind of plain and straight at both ends. 3) untrained.
Inter. Dogs: 1) square, lovely head, good shoulders, crisp coat, wonderful way of going. 2) quality dog, not as good in shoulders, side gait and balance. 3) average dog, outclassed by the first two.
Aust. bred dogs: 1) nice dog, acceptable side gait and pleasing head. Wish he had a bit more leg and less skirt. 2) average dog. 3) sorry but I do not have much positive to say
Open dogs: 1) exceptional animal! Great foot timing with a true light and springy action. Lovely headed. Good shoulders with front legs standing where they belong. Balanced package in superb condition and trim. 2) nice from the side. Would prefer better overall balance. 3) proper trim and in good condition. Unfortunately, on the day, outclassed.
Vet.Dog: good boy with a true poodle disposition and in great condition.
Challenge dog: the open dog won in a heartbeat.
Reserve: went to the inter. dog due to his being better balanced than the 2nd place in open.
Minor puppy bitch: did not show well and shyed away from me a bit.
Puppy bitch: beautiful puppy bitch. High stationed and willowy, which I like to see at this age. Wonderful attitude and side gait.
Junior puppy bitches: 1) lovely way of going. Nice and cobby with a terrific personality. 2) very hesitant in motion
Inter. bitches: 1) attractive and good in a circle. 2) nice bitch, unfortunately never really under control 3) sorry, not my cup of tea
Aust. Bred bitches: 1) very impressive and statuesque lady, lovely face and well made. Would like to shorten her up. 2) nice bitch, not very well behaved 3) moderate and pleasing.
Open bitches: 1) dead sound, loved her head, balanced at both ends. In a fitting trim and good condition. Light, springy side gait. 2) easy on the eyes, cobby and typey. 3)
Not competitive with the above.
Challenge bitch: the lovely open bitch defeated the puppy bitch, who was reserve, on maturity and shoulders. However, I did appreciate the outline of the puppy!
Best of breed: although I was very pleased with my challenge bitch, there was absolutely no denying the dog.

Toys

Baby puppy dogs: this was a good class. 1) pretty head and balance with good legs. 2) I liked this one too but not as pleasing in the head and as short coupled. 3) flashy and cute little guy. A bit low on leg.
Minor puppy dog: did not show to his best and advantage. Not the type I prefer.
Puppy dogs: 1) good going in a circle. A little too much for me. 2). There again, no tail, no poodle.
Junior dogs: 1) stylish, dead straight in front and tail on back. 2) not good tail carriage and his head was marred by a very full eye.
Inter. dogs: 1) pretty guy with good head and appealing face. 2) beautifully colored silver with pleasing head and great side movement. Down and back is not his best attribute. 3) unfortunately for this dog, he was is the class with the first two.
Aust. Bred dogs: 1) well is size, ultra stylish, trappy dog. Covered ground beautifully. True toy poodle type. 2) I like this dog as well. Little better in head and coat, but I preferred the boning and style of the first. 3) very acceptable dog, on the day eclipsed by the other two boys.
Open dogs: I really enjoyed these young lads. All three have really good heads even though they each differ slightly. The trio were all wearing english saddle trims and are of exceptional quality and in lovely condition. First dog took the prize on general outline and side view. My best overall class in the show!
Challenge dog: the open dog was flawless and I could not take my eyes off him.
Reserve: It could have easily gone to the 2nd place in open but I really wanted to reward the style and heart of the Australian bred.
Baby puppy bitches: 1) wonderful air about her. Carries herself exceptionally well. 2) nice puppy 3) nice but a bit straight in the rear.
Minor puppy bitches: this was another good class! 1) moderate young lady, pretty all over. Great side picture. 2) most appealing, just a wee bit edged out by the first. 3) typey girl with proper side gait. Wish she had more angle in the shoulders and came at me cleaner.
Puppy bitch: 1) great coat, square with good side view. Could be better coming back to me.
Junior bitches: 1) appealing face and side movement. 2) pretty face and side picture. Absolutely crossed over coming at me. Folks, this in not acceptable in my book.
Inter. bitches: another class I enjoyed. 1) exquisite type with a rather fine, beautiful head and captivating feminine expression. Balanced with a proper and deliberate side gait. The trim annoyed me to an extent due to hair flying all over the place but I managed to look beyond that minor detail. 2) another beauty, just a bit outdone. 3) liked this one also. It would serve her well to mind her manors.
Aust. Bred bitches: 1) loved her, walked away with the class. 2). I very much liked this gal too. Not quite as eye filling as the first. 3) pleasing, just a little less than the first two.
Open bitches: 1) yet another toy I would be proud to have bred! Would prefer her tail to be off her back. 2) nice but not in the same league as the first.
Veteran bitch: lovely nine year old. Great condition with good legs.
Challenge bitch: this class was indeed a challenge. In a row, they were very uniform in type and quality. A most satisfying display. The intermediate bitch never let down and failed to disappoint me.
Reserve: to the Australian bred. These two made an absolutely stunning pair as they made their way around the ring with their victory lap.
I would like to express my pleasure in judging the toy poodles. They thrilled me even more than my tour of the opera house! My hat is off to the talented breeders.

Best in show

Unlike the breed judging, this was easy as pie. Anyone of these three beautiful poodles could have easily walked away with the prize. However, on the day, the toy poodle's charm and charisma stole my heart!

To the club members, breeders and exhibitors, I again sincerely thank you. Please keep up the good and difficult work for our beloved breed, the poodle.

Contact Details
Diana Thompson
Casino, NSW, Australia
Phone : 0409228314
Email :
[email protected]